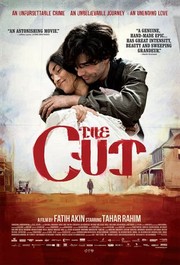 "Drama sejarah yang membuka mata dan hati terhadap perjalanan fisik dan spiritual yang dialami oleh karakter utama"
Pada tahun 1915 ketika Perang Dunia I meletus, Kekaisaran Ottoman melakukan genosida terhadap kaum Armenia. Suatu hari, Nazareth Manoogian terpisah dari istri dan dua putri kembarnya dalam kerja paksa. Secara ajaib, Nazareth selamat dari pembantaian massal dan berusaha mencari kembali keluarganya. Nazareth pun mendapat kabar bahwa keluarganya tidak selamat dalam death march, dimana wanita dan anak-anak dipaksa berjalan ke gurun Syria tanpa makanan dan minuman. Secercah harapan pun muncul ketika Nazareth mengetahui kedua putri kembarnya masih hidup. Pencarian tanpa lelah pun dimulai dari Lebanon, Kuba, hingga Amerika Serikat.
Bagi saya, The Cut jelas menjadi pemahaman yang sangat berharga dalam sisi lain yang terjadi dalam Perang Dunia I. Salah satu pembantaian massal sistematis pernah terjadi di Eropa jauh sebelum Holocaust, dimana sekitar 1,6 juta orang Armenia dibunuh oleh Kekaisaran Ottoman - yang sekarang menjadi negara Turki. Karena peristiwa bersejarah inilah sensitifitas antara orang Turki dan orang Armenia masih saja terjadi hingga abad modern ini. Tetapi rekonsiliasi terus diupayakan oleh berbagai orang, salah satunya adalah dengan film ini dimana sutradara Fatih Akin adalah keturunan Turki dan penulis naskah Mardik Martin adalah keturunan Armenia.
Penderitaan yang dialami oleh karakter utama Nazareth memang terbilang brutal dan sangat sulit dibayangkan. Tetapi jelas Nazareth hanyalah representasi dari apa yang sesungguhnya terjadi pada bangsa Armenia pada waktu itu. Penonton pun dibawa secara emosional untuk merasakan apa yang dialami oleh Nazareth, untuk kemudian menaruh empati padanya. Ketika seseorang yang teguh pada iman dan agama, bisa pula kehilangan spiritualitasnya saat kemalangan tiada tara menimpa dirinya. Tetapi bukan berarti dirinya tidak mampu merasakan hal spiritual yang terjadi dalam perjalanan hidupnya.
The Cut adalah sebuah film perjalanan. Secara harafiah, film ini memang berkisah tentang perjalanan Nazareth dalam menemukan kedua putri kembarnya yang terpisah jarak dan waktu. Pada tahap ini, hiburan menarik bagi penonton adalah pada pertemuan Nazareth dengan berbagai karakter yang baik hati di sepanjang perjalanannya. Belum lagi latar tempat yang eksotis dan sangat indah dalam untaian gambar di setiap adegan. Namun secara spiritual, The Cut dapat pula berarti perjalanan iman seorang karakter utama yang memiliki nama kota kelahiran Yesus Kristus. Mulai dari tingginya keteguhan iman, hingga jatuhnya kepercayaan bahwa Tuhan adalah Maha Kasih, dapat dirasakan dengan pasti lewat gambaran yang diberikan.
Germany / France / Italy / Russia / Poland / Canada / Turkey / Jordan | 2014 | Drama / History | 135 mins | Scope Aspect Ratio 2.35 : 1
Rating?
8
dari 10
-
sobekan tiket bioskop
tanggal
5 Mei 2016
-