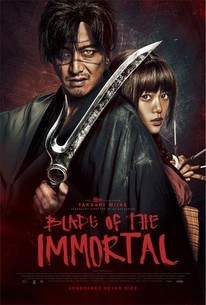 "Karya ke-100 dari sutradara Takashi Miike ini meski masih menyajikan over-the-top violence, tetapi cukup menahan diri dalam menyemburkan darahnya"
Manji adalah seorang ahli samurai yang dikutuk dengan keabadian. Setelah gagal menyelamatkan adiknya yang dibunuh oleh puluhan pembunuh bayaran, Manji diberikan cacing sakti yang dapat menyembuhkan dirinya oleh seorang biksu misterius. Lima puluh tahun kemudian, Manji menghadapi persoalan yang mirip ketika dia harus melindungi seorang anak perempuan yang kedua orang tuanya dibunuh oleh sekelompok samurai. Isu penebusan, kehidupan serta keabadian pun mencapai puncaknya pada pilihan yang harus dihadapi oleh Manji.
Kalau dilihat secara statistik, di mana
Blade of the Immortal
adalah film keseratus dari sutradara legendaris Takashi Miike, maka bisa dibilang gue termasuk orang yang tidak familiar dengan film-film beliau. Selain film ini, gue hanya menonton dua film Takashi Miike yang lain;
Zatoichi
(2003) dan
13 Assassins
(2010). Tetapi memang ciri khasnya sudah sangat terlihat; kekerasan yang di atas standar dan sangat dramatis, dipadu dengan kisah kultur Jepang yang sangat kental.
Blade of the Immortal
pun masih meresapi ciri khas tersebut, meski menurut gue kali ini Takashi Miike cukup menahan diri dalam menyajikan cipratan darah. Padahal tema yang diangkat sebenarnya mirip-mirip dengan
13 Assassins
; duel epik antara ahli pedang yang notabene akan banyak adegan sabet-sabetan dan tusuk-tusukkan. Namun dengan rating dewasa 21 tahun ke atas oleh LSF di Indonesia, entah apakah dipotong sensor atau memang dari kopi film aslinya, gue merasa ada banyak adegan sabet dan tusuk yang dilewatkan. Kalau memang itu adalah kopi aslinya, maka mungkin saja kali ini Takashi Miike menyajikan konsep yang berbeda. Memang tidak ada adegan sadis yang grafis dan visual, tetapi oleh suara dan ekspresi karakter maka visual tersebut seakan masuk dalam imajinasi penonton.
Bagi bukan pembaca manga, perlu diketahui bahwa film ini merupakan adaptasi dari komik legendaris Jepang berjudul sama. Dari 30 volume yang terbentang selama 20 tahun, usaha untuk memadatkannya dalam film berdurasi 140 menit tanpa kehilangan esensinya adalah hal yang luar biasa. Tema tentang
redemption
dan pilihan antara hidup abadi dan kematian memang menjadi salah dua tema yang dieksplorasi dengan sangat baik dalam film ini. Meski begitu,
pay-off
di klimaks film terasa kurang menggigit - yang mungkin saja terjadi karena keterbatasan medium dan durasi. Di luar itu,
Blade of the Immortal
yang bergenre
quasi-fantasy
ini tetap menyajikan tema baru dan segar bagi film-film Jepang bertemakan sejarah dan kehidupan samurai.
Japan | 2017 | Action | 140 mins | Scope Aspect Ratio 2.35 : 1
Rating Sobekan Tiket Bioskop:
-
sobekan tiket bioskop
tanggal
23 November 2017
-
----------------------------------------------------------
review film blade of the immortal takashi miike
review blade of the immortal takashi miike
blade of the immortal takashi miike movie review
blade of the immortal takashi miike film review
resensi film blade of the immortal takashi miike
resensi blade of the immortal takashi miike
ulasan blade of the immortal takashi miike
ulasan film blade of the immortal takashi miike
sinopsis film blade of the immortal takashi miike
sinopsis blade of the immortal takashi miike
cerita blade of the immortal takashi miike
jalan cerita blade of the immortal takashi miike